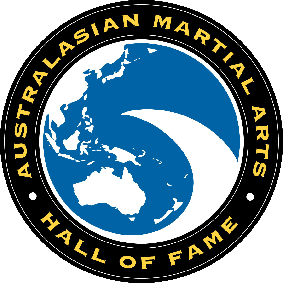 AMAHOF President's Report 2023
I would firstly like to congratulate all the inductees who will be presented with their awards here tonight, in recognition of their longstanding and continued excellence and contribution to Martial Arts in Australia and its surrounding regions.
This year's event is the second of our catch-up years due to the postponement of AMAHOF in 2020 and 2021 caused by the COVID pandemic travel and risk restrictions. Despite these events not running over these two years we were still accepting and processing applications and publishing the accepted inductees onto our website.
Those events were due to be held in Perth and Sydney respectively, so when restrictions eased enabling us to continue operations, we simply had to revisit our plans. Thankfully our event directors GM Ramon Lawrence for Perth and Master Paul Mitchell for Sydney were happy to kick their plans back into gear and bring them to fruition. Last year at Joondalup Resort in Perth, Western Australia we had our first catch up year. The event was attended by 183 people and we inducted 13 people. This year we have a full house of about 300 attendees and 15 inductees.
The Australasian Martial Arts Hall of Fame continues to be the premier independent Hall of Fame for the Martial Arts community here in the Australasian region. It is a non-profit association where the funds for our main event in August predominantly come from ticket sales to the event. The remainder is from induction and grading fees, sponsorships, raffle and merchandise sales. The executive team and board of directors are duly elected each year at our Annual General Meetings from its financial and life members and they freely volunteer their time to organise and bring these events to light year after year.
This is a Hall of Fame run by Martial Artists to honour their fellow Martial Artists. Each year we aim to seek out and induct up to 15 people into AMAHOF. Nominations can be made by anyone, but each nomination undergoes a background check by our committee to ensure the entry criteria is met. With the power of the Internet and the availability of video conferences the executive has been able to have face-to-face meetings to discuss the nominations as well as other operational business issues.
AMAHOF by its constitution remains neutral and does not get involved in the politics between individuals or organisations. Each nomination must stand on its own merits. The Executive and board of directors are charged with protecting the reputation of AMAHOF and its current members to ensure nominees are of high quality both in a Martial Arts and an ethical perspective.
This year we have many return members who the executive committee have invited back to receive Lifetime Achievement awards. This award represents an acknowledgement of 35 years of continued excellence in their practice and teaching for their respective arts. Since the beginning of AMAHOF 27 years ago in 1996, there have been many members that have passed this milestone. In the coming years as we take this event around the country, the AMAHOF committee will be inviting the qualifying members back to receive this recognition.
This year we sadly heard of the passing of two of our members, Shihan Joseph Julian (Yoshin Ryu Karate) who was inducted in 2018 and AMAHOF Legend Shihan Frank Dando (Judo) who was inducted in 2006. Both were exemplary gentlemen and will be missed by us and their respective families and organisations.
Finally, I would especially like to thank my executive team, both present and past incumbents, who have served with me over the last 4 years. Vice President GM Anthony Hockley, Secretary Master Steve Weston and Treasurers Sensei's Rowland Winter and Kevin Prime. I'd also like to thank the people on board of directors. John Marrable and Peter Shaw representing New Zealand, Diane LaTorre, Colin Wee, Peter Hunt, Randal Jones and Paul Mitchell. Also, to the Chair and Deputy Chair or the Australian Sokeship Council, GM Ramon Lawrence OAM and Kyoshi Zlatko Peter Kitak. A special thank you also to Ramon and Paul as Event Directors together with their respective teams.
This will be my last year as President of AMAHOF and it has been an honour and a privilege to serve in this position for the last four years. I wish the incoming committee all the best of success for their next terms in office.
Vice President: Anthony Hockley
Secretary: Steven Weston
Treasurer: Kevin Prime and Roland Winter
Directors (Board members)
2021 to 2025
Edward Scharrer (until 2023)
Anthony Hockley (until 2025)
Kevin Prime (until 2023)
Steve Weston (until 2023)
Peter Hunt (until 2025)
Colin Wee (until 2025)
Diana LaTorre (Until 2023)
2023-2027
Anthony Hockley (until 2025)
Zlatko Peter Kitak (until 2027)
Roland Winter (until 2027)
Colin Wee (until 2027)
Steve Weston (until 2027)
Peter Hunt (until 2025)

Regards, 
Shihan Edward Scharrer
Outgoing President AMAHOF Inc.