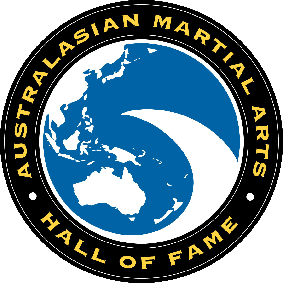 AMAHOF President's Report 2022
It has been a tumultuous couple of years with life being ruled by the pandemic and the uncertainty of lock-downs, border closures and general restrictions, however we emerge keen to resume life as we grapple with the new normal of living with Covid-19.
I'd like to congratulate the inductees for this year and indeed the inductees for 2020 and 2021 for their contributions to Martial Arts in Australasia. Your entry into AMAHOF is a just and fitting reward for all of your years of training, commitment and sacrifice to your chosen art. Tonight at these Awards you will gain a well deserved recognition not only from your own organisation but from the wider Martial Arts community.
During the time of the last event in Canberra in 2019 the AMAHOF committee have been toiling away with planning events in Perth in 2020 and Sydney in 2021 only to have to make the disappointing decision to cancel these events due to COVID restrictions. However we were still able to process inductee applications and accept them in preparation for our next live event, which I'm happy to say is here in Perth in 2022.
Over the next few events starting with the one here tonight, our aim is to catch up and to formally induct all of our applicants for 2020 and 2021 alongside new inductees in Perth this year and in Sydney in 2023.
One positive outcome of the pandemic is the global ability to conduct business via video conference. To this end our committee utilised the Zoom platform to conduct meetings. This has been of tremendous benefit to the executive committee as we are spread all over Australia, so to have a method to connect without the need to travel has been invaluable to our organisation. While email is still utilised, having the ability to meet face to face on a screen is much more efficient to thrash out organisational matters.
AMAHOF and the Sokeship Council, being a non-profit organisation, the work that the executive and directors do is all voluntary. I'd like very much to thank all the executive committee for their work and contributions. I'd especially like to thank Master Steve Weston for all his work with preparing and recording meetings, keeping us all up to date with communications and our to do lists and with many aspects of event organisation too.
The event directors and their team also do a power of work to organise events. Even though Grandmaster Ramon Lawrence OAM and Master Paul Mitchell had their events cancelled in 2020-21, they have been willing to see it through to the end and continue as event directors for 2022-23. I'd very much like to thank them for their continued efforts to AMAHOF.
The pandemic has take it toll too. Kevin Prime our Treasurer has needed to tender his resignation due to personal reasons. As we all need to realign our lives and responsibilities to the new normal, for many people this has placed extra burdens upon us as we all try to look after our families and loved ones. I'd like to thank Kevin for his much valued contribution in executing the job of AMAHOF Treasurer.
I'd like to thank all of the directors. Some of whom are inductees from the last two cancelled years and have not seen an event, but are still willing to contribute to the organisation.
Vice President: Anthony Hockley
Secretary: Steven Weston
Treasurer: Kevin Prime

Directors (Board members)
2019-2021
Zlatko Peter Kitak
Peter Shaw
Randall Jones
Paul Mitchell
2021 to date
Peter Hunt
Colin Wee
Diana LaTorre
Regards
Shihan Edward Scharrer
President AMAHOF Inc.